How Much Does Water Restoration Cost?
11/19/2021 (Permalink)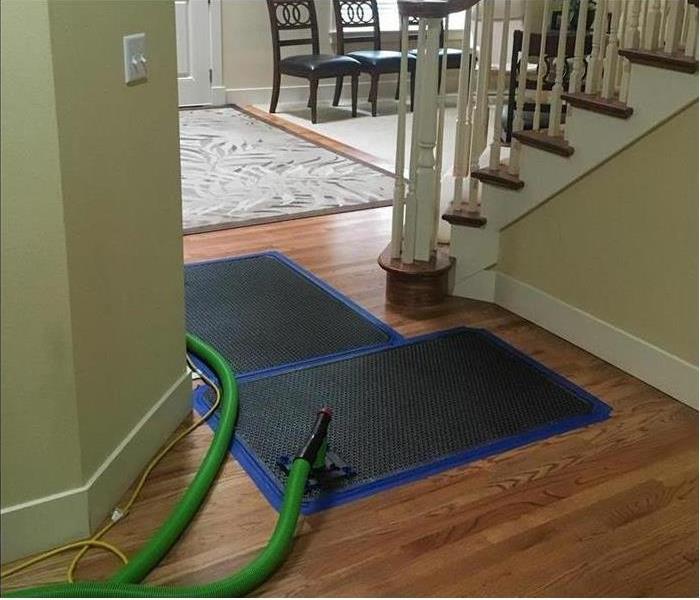 Our SERVPRO of Seattle Northwest team frequently uses these floormats to dry flooring affected by water damage.
What Is the Price of Water Restoration?
Water damage repair at your home in Seattle, WA, can cost you time, energy and money. How much does the process cost monetarily from start to finish? The short answer is that it depends.

What Are the Factors Involved in Pricing?

When it comes to water damage, the average flood repair in the United States runs homeowners about $2,700. However, this figure fluctuates depending on a variety of factors.

• The amount of damage in need of repair has a significant impact on cost. Typically, if drywall and carpeting are involved the average restoration cost rises to approximately $7,500.

• Type of water can also a key contributor to cost. Clean water from sources such as pipes or rain can cost roughly $3.75 per square foot. Black, or contaminated water from sewage, is around $7 per square foot.

• The speed of remediation is often important because the longer you wait to start removing water, the more secondary damage can occur. This can increase the potential cost.

• Location often plays a role in terms of labor cost. For example, New York and Chicago are two of the more expensive restoration areas.

Why Hire a Water Restoration Specialist?

Even though it may seem more expensive to hire a restoration professional for damage repair, it can save you time and money in the long run. Not all water damage is visible or obvious to homeowners. There may be hidden moisture that can cause mold and become a financial burden later. Specialists use equipment, such as infrared cameras, to remediate moisture and prevent secondary damage.

The average flood often requires specialized gear and techniques. Depending on your unique situation experts can use a variety of methods and tools for removing excess basement water, drying, cleaning, disinfecting and restoring your home and contents.

Whether you have a small amount of flooding from clean water or a significant amount from black water flooding at your home in Seattle, WA, it can be crucial to initiate water damage repair as soon as possible. Immediate, professional help can save you time and money in the long run.